Issue 30
May 2020
By Kim Collings
1. Beast Profiles
2. Nutrition
3. Looking Ahead
---
Articles and interviews dedicated to reporting on the amazing people and stories of Your Beast Team!
Meet Michael Lee! Michael is one of our 2020 Beast Pro Team members and has been racing OCR for over three years, mostly Spartan. He spent 2017 running the open division and the last two years running age group, with several podium finishes. He is a man of many talents as he used to be a professional yo-yo demonstrator for over 12 years as well.
What was your first OCR race and what made you decide to try it?

My first Spartan Race was Portland 2016. I ran it just one week after my neurosurgeon released me from all physical limitations after I recovered from a broken neck. John Roberts, fellow member of Beasts OCR, is the one who told me about this race and we drove down together from Seattle. It was a fun beginning to my OCR adventure.
How has OCR helped you overcome challenges?

The grit and resilience I learn in OCR helps me in my professional life as a small business owner in downtown Seattle. I face obstacles in the workplace every day and I am much better at conquering them now with my OCR mindset!
What do you love most about the OCR Community?

Almost everyone in the OCR community is a "Can DO" kind of person. It is such a positive environment and I appreciate the support. I also enjoy supporting my fellow OCR friends as they strive to reach their goals.
Who inspires you?

In OCR, I am inspired by Robert Killian and Ryan Atkins because of their commitment to training and consistency. I am also inspired by the numerous people I have met who run OCR and have overcome adversity to do so.
What is your favorite OCR memory?

In September 2017, I was on a missions trip to work with an orphanage in Thailand and upon arrival in Bangkok, I saw an advertisement for a Spartan Race. I was able to extend my trip to Thailand so I could run that race in Bangkok. That was the day I became an international Spartan!
What is your favorite and least favorite obstacles?

My favorite obstacle is the rope climb. My least favorite is the tire flip.
What length of race do you like best?

I enjoy the 13.1 mile Spartan Beast the most. I place better in the Spartan Sprints though.
Tell us something about yourself that few people know, whether OCR related or not

I used to be a professional yo-yo demonstrator. I spent 12+ years speaking in elementary school assemblies, encouraging kids to do their best and wowing them with my mad yo-yo skills. Who knows, someone reading this might have seen me at their school when they were kids. I saw 1.7 million kids in the course of my career and visited all 50 states. That is why my Instagram handle is @YoyomanMichael
What are your goals for 2020?
I will turn 52 at the end of January. My first goal is to stay healthy! I would like to complete 7 Spartan Trifectas. I have completed 78 Spartan Races so far and hope to complete my 100th race at a cool destination. My goal is to be on the podium in my age group for the Spartan North America and World Championships.
Photo credit: Michael Lee, Kim Collings, Spartan Race
---
2. Beast Nutrition
Greek Yogurt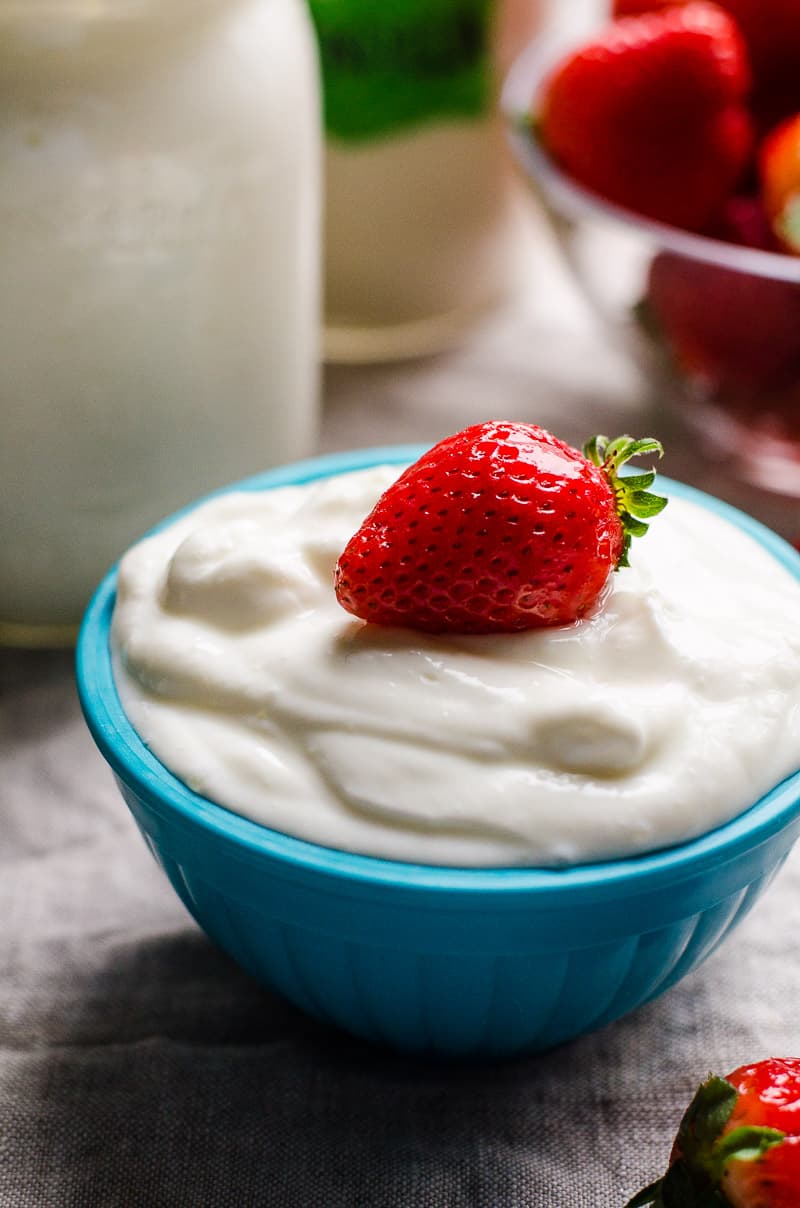 Greek Yogurt Fun Facts:
1. From zero to hero
Greek yogurt was virtually unheard of in 2009. Four short years later, it was the top-selling product in its category in Canada, jumping from 0 to 24% of total sales. Its smooth texture, short ingredients list and high protein content explain why nutritionists and consumers alike can't get enough.
2. Worthy of the Gods
What exactly is Greek yogurt? Simple: It's regular yogurt that has been strained. Thick and ultra-creamy, even in fat-free versions, it requires three times more milk to produce than regular yogurt, hence the steeper price tag. Enjoy it topped with honey and crushed pistachios for a treat worth of the gods… Greek or otherwise!
3. Do it yourself
Making Greek yogurt at home couldn't be easier. All you need is a container of gelatin-free yogurt, a bowl, a coffee filter or cheesecloth and a little bit of patience, as straining the whey can take up to 12 hours. Click here for a detailed how-to.
4. It's alive
This staple of the Hellenic diet is packed with probiotic bacteria. Besides facilitating digestion, lactobacilli and bifidobacterium help boost the immune system by limiting the proliferation of bad bacteria.
5. Calcium counts
Calcium levels vary from one brand to the next, meeting anywhere from 15 to 50% of your recommended daily requirement. If calcium is a concern in your diet, check labels carefully.
6. Savoury superstar
Think beyond sweet. Plain Greek yogurt is a wonderful basefor homemade tzatziki (just add grated cucumber, chopped garlic and mint) orIndian-inspired raita (fresh cilantro, diced tomatoes, green onions, red peppers and a dollop of Dijon).
7. Man on a mission
If one person can be held accountable for our Greek yogurt obsession, it's Hamdi Ulukaya, founder and CEO of Chobani. His mission? To bring high-quality, Mediterranean style strained yogurt to the American market. Andconsider it a job well done: today, Chobani is one of the most popular yogurt brands in the United States.
8. Protein powerhouse
Some brands contain as much as 19 grams of protein. per 175-gram (¾ cup) portion. That's enough protein for one meal.
9. Smooth stand-in
Greek yogurt can also quite handily do double or even triple duty. It's an excellent recipe substitute: In equal amounts, it easily replaces sour cream an in dips, muffins and scones.
10. Shelf life
The "best before" stamp doesn't necessarily mean "bad after"—the manufacturer just can't guarantee optimal taste and texture after that date.Yogurt can last quite a while in the refrigerator because of its natural acidity.
Photo Credit: https://ifoodreal.com/instant-pot-yogurt/
Article Credit: https://www.ricardocuisine.com/en/articles/the-ingredient/516-10-facts-about-greek-yogurt
Recipe:
Frozen Greek Yogurt and Pomegranate Bites


INGREDIENTS
2 cups 2% plain Greek yogurt
1 cups powdered sugar
2 cups pomegranate seeds (about 2 pomegranates)

INSTRUCTIONS
In a large bowl whisk yogurt and sugar until creamy. Add pomegranate seeds and mix well
Pour mixtures into square ice tray cubes
Place trays in the freezer for 2 – 3 hours until frozen
Photo and Article Credit: https://mayihavethatrecipe.com/frozen-greek-yogurt-and-pomegranate-bites/print/14144/
---
3. Looking Ahead
The Beast Report: May 2020