Issue 14
January 2019
By Kim Collings
1. Beast Profiles
2. Team Announcements
3. Nutrition
4. Joe's Corner
5. Looking Ahead
---
1. Beast Profiles
Articles and interviews dedicated to reporting on the amazing people and stories of Your Beast Team!
He will always stop to help you, keep you smiling, and is the loyalest friend ever….Meet Mike James!
What was your first OCR race and what made you decide to try it?
My first OCR race was the Gladiator in 2010. I had some coworkers at the time who were going to do it and they invited me along.
How has OCR helped you overcome challenges?
I look at challenges differently now. It used to be about the effects that dealing with the challenge would have on everything else. and now it is about the effects the solution will have on everything else. I don't see challenges as a burden or annoyance anymore, they are a learning opportunity and a way to grow.
What do you love most about the OCR Community?
The Family. you have the family you are born with and the family you choose. I choose my OCR Family.
Who inspires you?
Everyone who gets off the couch and tries to be better. My favorite thing to say to everyone is "you never come in last because you beat all of the people who didn't even try".
What is your favorite OCR memory?
Finishing Montana in 2016 after being out there for 13.5 hours.
Tell us something about yourself that few people know, whether OCR related or not.
Most people know almost everything about me if they listen to the podcast at all. I decorate cakes, I have a second personality that does comedy and other podcasts. But one thing people may not know is that I am not a confident person at all. I have a very low opinion of myself most of the time and I try to hide that fact with jokes and comedy.
What are your goals for 2019?
To fix my health issues and stop just finishing races. I want to run races.
---
2. Team Announcements
2019 Pro and Ambassador Teams
Please join us in congratulating our 2019 Pro and Ambassador Team members!
2019 Pro Team:
Rachel Lotz
Rick Evans
Tessa Turnbull
Toni Hessen
2019 Ambassadors:
Candice Thornton Day
Miriam McCormick
Heather Rooke
Jeannie Nieman
Please help us in thanking the 2018 special team members for such a memorable and wonderful year. You are all amazing and appreciated so much!
2018 Pro Team:
Tracy Elenzano Murillo
Jenna Ravenscraft
Kaelyn Rogers
Patrick Olson
David Robertson
Joe Gates
2018 Ambassador Team:
Christina Horton
Jessica Martin
Lisa-Anne Lindley
Brian May
Nic Thompson
Emily Ford
---
3. Beast Nutrition
Oatmeal Fun Facts
Oats are used primarily as food for livestock, with only about 5% of the world crop being consumed by humans.
October 29th is National Oatmeal Day.
January is National Oatmeal Month.
March 18th is Oatmeal Cookie Day.
Seventy-five percent of U.S. households have oatmeal in their cupboard.
The most popular oatmeal toppings are: milk, sugar, fruit (raisins, bananas) and butter/margarine. Among the most unusual are: eggnog, peanut butter, cottage cheese and brewer's yeast.
Oatmeal cookies are the number one non-cereal usage for oatmeal, followed by meatloaf.
Oatmeal is a bargain at less than 15 cents a serving.
Oatmeal is heart healthy. More than 37 scientific studies show that eating oatmeal daily as part of a diet low in saturated fat and cholesterol may help reduce the risk of heart disease.
There are myriad types of oatmeal on the market – from old fashioned to instant. Rolled oats that have not been cut into small pieces are considered old fashioned and take about five minutes to cook. Old fashioned oats produce a chewier consistency. Instant oatmeal typically has sweeteners, other ingredients or flavors added.
Recipe:
Kim's Pre-Race Traveling Oatmeal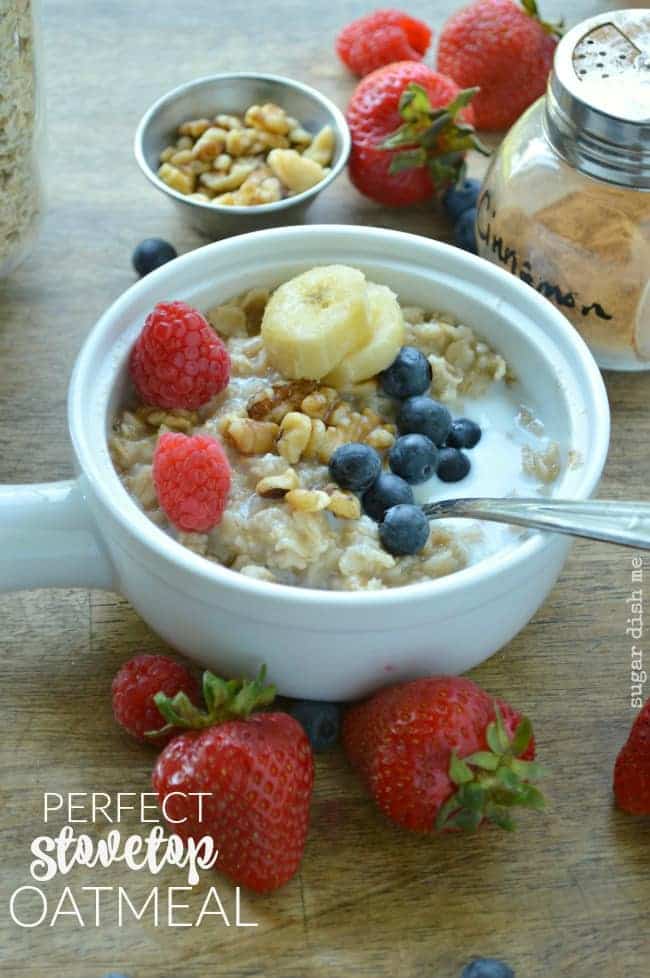 My go to breakfast before any race is oatmeal. It's easy to pack, great energy and has always fueled my races without a hitch. Oatmeal is a whole grain, low glycemic carb. It is a slower burning carb and will sustain your energy longer than a high glycemic carbs such as white bread. I like to enhance it by adding some protein, usually in the form of nuts. I'll also add raisins and a banana for the potassium. If I'm traveling for the race I pack it in a baggie and put a spoon right in the bag so it doesn't get lost. On race morning I add warm water and let it soak. After about 5 minutes it's ready to eat…..right out of the bag. I always thought you had to cook it, but it comes out great!
1 cup extra thick rolled oats
1/4 cup nut pieces (any kind but almonds travel well)
1/8 cup raisins
1 medium banana (you can slice it with your spoon)
Water to moisten (or milk)
Extra Add-Ins: Chia seeds, flax, hemp hearts, wheat germ, berries
Add water or milk and let soak for 5 minutes. Enjoy!
Photo Credit: Mike James, Spartan Race, Kim Collings
https://greenblender.com/smoothies/2098/avocado-facts
---
4. Joe's Corner
Check back next month for Joe's Corner
---
5. Looking Ahead
The Beast Report: January 2019 – New Year's Special Edition