Issue 26
January 2020
By Kim Collings
1. Beast Profiles
2. Nutrition
3. Looking Ahead
---
1. Beast Profiles
Articles and interviews dedicated to reporting on the amazing people and stories of Your Beast Team!
Meet Brian Cays!
What was your first OCR race and what made you decide to try it?

My very first race was the Marine Corps Mud Run on Camp Pendleton in 1998. It was way before the OCR craze. No medal, no t-shirt, just a muddy good time. We were stationed a few hours away and my Sergeant offered to drive anyone that signed up. I could never turn down a challenge. Thinking about it now, I need to go and run it again to see what's changed in over 20 years. They have medals now!
How has OCR helped you overcome challenges?

In 2003 I got out of the Marine Corps after a tour in Iraq. I was highly stressed with life issues and ended up losing myself while working 16 hour days. I ate crap food and had no time or desire to exercise. My only focus was to support my family. I did not know that I was suffering from PTSD. I didn't even know what that was. Work and Home life became a blur. I became depressed and had been neglecting myself for years. Time went on and I had gained over 80 pounds. In 2011 a friend of mine invited me to Survivor Mud Run. I was excited! It sounded just like old times back when I was active duty. I was sadly mistaken. I couldn't run, couldn't breathe, it was hard to climb and I nearly killed myself getting over the wall. I didn't even know how far I had fallen until then. I had been failing myself, failing my family and failing in life. That race woke me up and I told myself "never again". I quickly signed up for more races, I hit the gym and started changing what I ate. In 2012 I signed up for every single OCR that I could find including my first Spartan Race in Washougal. I remember failing four obstacles. I also remember Hobie Call standing on the podium finishing over an hour faster than me. That lit a competitive fire deep inside me. I found new workout programs like My Mad Methods and Unconventional Training. I made more changes to my diet and I became hyper focused on running a clean race. In 2014 I ran my first Spartan Beast which was also my first clean Spartan Race. In 2015 I earned a double trifecta while racing in the competitive division. I was not only racing well but my home life and my work life improved too. My life was finally separated and prioritized. My job took a back seat to my mental and physical health. The more I raced, the happier I was. Whether I ran competitive or out with a first timer teaching them techniques along the way, I got the therapy that I badly needed. OCR not only brought me back but I am now stronger than I ever was. I will never stop. I will never go backwards. I will always grow as an Obstacle Course Racer because it helps me grow as a person, as a husband and as a father.

What do you love most about the OCR Community?

The OCR Community is an incredible support group with like-minded people working on personal growth. You are immediately accepted into the family no matter your size, shape or ability. Everyone has different struggles, weaknesses and inner battles. On and off the course you can get the help you need from a perfectly good stranger.
Who inspires you?

Anyone that has hit rock bottom and had the courage to climb.
What is your favorite OCR memory?

My son Austin and I on top of the mountain in Tahoe at the 2015 Spartan World Championship was priceless.

What is your favorite and least favorite obstacles?

My favorite obstacle is the Tarzan Swing under the bridge at Mt. Killington in Vermont. My least favorite obstacle is the 100 mile low crawl.

What length of race do you like best?

I like the 10K distance the best. Not too short, not too long but just right.
Tell us something about yourself that few people know, whether OCR related or not.
I volunteer my time helping people with disabilities reach finish lines from 5K's to Triathlon's.

What are your goals for 2020?

My 2020 goals are to run as many local races that I can and also races that I have never done before. I will always have a love for Spartan because they brought out my competitive spirit. But for 2020 I need to find a race that lights a new fire
Photo credit: Battlefrog, Spartan Race, Brian Cays
---
2. Beast Nutrition
New Year's "Eat Better" Resolutions: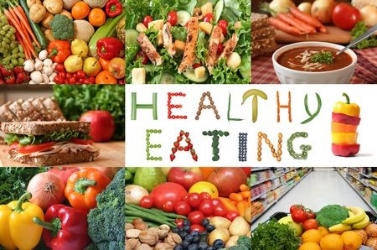 Do you resolve each year to do your body some good? Making small changes in diet and exercise will reap big rewards.
Lose weight, eat less junk food — they top many lists of New Year's resolutions. But sticking with those good intentions is just not easy.
The problem: "Most people have unrealistic expectations," says Cynthia Sass, a nutritionist with the University of South Florida in Tampa and a spokeswoman for the American Dietetic Association.
"They decide this is the year they're going to completely change everything about their diet," she tells WebMD. "That's just too hard to do."
Willpower isn't the issue, says Sass. "Willpower is about depriving yourself, and nobody gets excited about that. Besides, depriving yourself is depressing and leads to bingeing. Focus on the positives — you feel better, have more energy, when you eat healthy."
When making dietary changes, "start small," she says. "Set a few realistic goals. In the long run, you'll have better self-esteem and more self-confidence because you'll actually stick with them."
Make Eating Healthy Easier: Get Healthy Recipes Delivered to Your Inbox Twice a Month in Our Free Healthy Cooking Newsletter.
Here are a few tips for a healthier diet and lifestyle:
Don't skip breakfast, says Heidi Reichenberger, another ADA spokeswoman based in Boston. "Skipping breakfast gives you the munchies later on and slows your metabolism down." She advises starting the day with yogurt and fruit or whole-grain cereal with low-fat milk.
Don't skip any meals or snacks, says Sass. "Try not to let more than five hours go by without eating. Waiting too long can zap energy, and can lead to overeating later. Eat a (healthy) snack between lunch and dinner, maybe right before leaving work, so you will be less likely to grab snack foods once you get home."
Include a total of 30 minutes of activity every day. "It doesn't have to be all at once," Reichenberger tells WebMD. If it takes 10 minutes to walk from the bus stop, get off at the next furthest stop so you get a few more minutes walking. And walk it briskly — you can lose some weight, improve your cardiovascular system, and sleep better.
Drink fewer sodas and other sweetened drinks, like iced tea. A big bottle of a juice-based drink can contain 300 calories — and those calories add up. Drink water instead. Or mix juice and water, so you're not drinking something so heavily loaded with sugar.
Aim to eat five servings of fruits and vegetables every day.
Buy pre-cut fruits and vegetables, so you can grab them when you're hungry.
Keep frozen veggies in the fridge. They are easy, quick, and rich in nutrients. Take them to work for a quick lunch you can heat in the microwave. Season with black pepper, herbs, lemon juice, or a red wine-and-balsamic vinegar dressing.
Bring snacks to work — such as pretzels, fruit, and yogurt — so you won't find yourself at the vending machine every afternoon.
When fixing a salad, sprinkle rolled oats or crunchy whole-grain cereal for added fiber, so you'll feel full.
Fix pasta dishes with veggies and lean protein (like canned tiny shrimp, tuna canned in water, precooked chicken breast, or soy crumbles). Adding protein and veggies to pasta allows you to cut back on the amount of pasta (which is high in carbohydrates) while still feeling full.
Also, hand-select a variety of fruits instead of buying one large bag of the same fruit. "After the third or fourth day of apples, you'll likely be sick of them," says Sass. "Mixing up a few different types of apples, one pear, one banana will keep you from getting bored."1
Photo Credit: https://www.paulayoumellrn.com/whole-food-feeding-your-cells
Article: 1 https://www.webmd.com/diet/features/keep-those-new-years-eat-better-resolutions
---
3. Looking Ahead



The Beast Report: January 2020